EMI filter capacitor feedthrough made in china
Capacitance:10PF~2UF
Rated voltage:16V~2KV
Temperature Range: -55 To 125°C
Electric current:8A~20A
Maximum working voltage: 2.5Voltage
Warranty: Unconditional replenishment
Provide ODM/OEM services
Description
EMI filter capacitor feedthrough
The core of the EMI filter capacitor feedthrough is a disc-shaped multilayer or tubular ceramic capacitor. Like other ceramic items, it will be damaged by sudden temperature changes, mechanical vibration and excessive voltage. When installing the feed-through filter on the board surface, care must be taken to minimize various stresses when welding the guide pin of the filter and shaping.
EMI filter capacitor feedthrough characteristics and applications
1) Welded EMI filter
Welded EMI filter is the most ideal product for small installation space;
Application: mainly used for filtering signals, data lines and AC power lines; telecommunication equipment, transmission equipment, microwave filters, industrial computers, and composite circuit filter components
Small size: effective use of space;
Rated voltage: up to 1000VDC;
Various circuit structures: C-type, Pi-type, and L-type circuits are available;
High temperature structure: can prevent backflow during installation;
Certification: Filters available for MIL-F-15733 QPL and MIL-C-11015 (CK99) certification;
2) Resin sealed threaded EMI filter
The nuts and washers provided with the resin-sealed bolt EMI filter can be easily installed to the through-hole position; resin sealing at both ends of the rugged housing provides good environmental protection
Application: mainly used for signal, data line, DC power line filtering; micro-extrusion installation or screw installation is the ideal choice when it is not suitable for welding, suitable for microwave and other high-frequency applications;
Voltage: up to 2500VDC / 250VAC
Certification: available for MIL-F-15733 certified products
Circuit structure: C type, L type, Pi type
Fuzhou Xinxiangwei Electronic Technology Co., Ltd. Website: http://www.0591xw.com 04
3) High current and high voltage resin sealed EMI filter
Application: High current filter is mainly used in high current switching power supply and DC charging system;
The high-voltage filter is mainly used in high-voltage power supply, and the solid bolt structure is easy to install;
Features: High current up to 100Amps (special requirements can be customized)
Voltage: up to 3000VDC and 2500VAC (special requirements can be customized)
4) Glass sealed high-performance EMI filter
This series of filters is sealed with glass and has excellent EMI filtering performance. For those who still require high reliability filtering in harsh environments, this product is the best choice for wideband high-performance EMI filtering from 10KHz to greater than 10GHz The glass seal series is highly resistant to moisture, corrosion and other harsh environments that may be encountered in military applications.
Applications: power supplies, signal lines, rocket ignition devices, aircraft, military communications, medical equipment, multi-stage filtering;
Optimized design: a variety of sizes and shapes, C, L and Pi circuits are available for selection, and Pi, T, & TT circuits can be suppressed instantly;
Reliability: Manufactured according to MIL-F-15733 and MIL-F-28861 standards, and in compliance with QPL requirements;
Based on MIL-F-28861, space application "S" level
FED / MIL certification: meets MIL-F-15733 and MIL-F-28861 standards
Features: Insertion loss range 0.01MHz-10GHz
Capacitance and temperature characteristics: 1pF-10μF; NPO, Y5P, X7R, Y5U, Z5U, etc.
Temperature range: -55 ℃ ~-+ 125 ℃, -40 ℃ ~-+ 85 ℃, -20 ℃ ~-+ 85 ℃
Maximum voltage value: 3000VDC; 2500VAC; (special requirements can be customized)
Maximum current: 100A (Special requirements can be customized)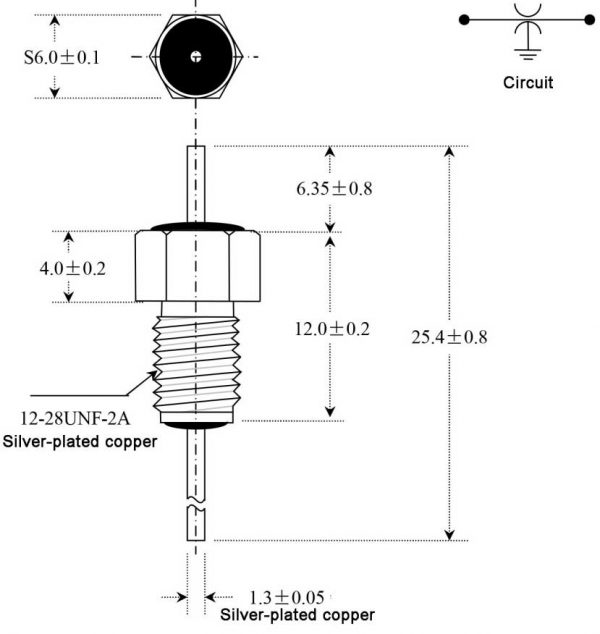 There are several common circuit forms for EMI filters
There are many kinds of internal circuit forms of feedthrough capacitors. The combination of capacitors and ferrite beads according to different circuit structures can form C, LC, Pi, T-type filter circuits. These circuits provide different filtering characteristics. The more components of the filter, the shorter the transition band between passband and stopband, and the greater the insertion loss.
Type C filter, single capacitor structure. It is a low self-induction device that avoids high-frequency noise interference to the ground. It is suitable for signal line filtering and DC power line filtering, and is suitable for applications with high impedance sources and high loads.

LC type filter, this is an EMI filter with inductive and capacitive components. Different installation methods (directions) can be used for occasions with high source impedance and low load impedance, or low source impedance and high load impedance.

The Pi filter is composed of two capacitive elements and an inductive element between the two capacitive elements. Compared with C type, LC type structure provides better high frequency filtering performance. It is suitable for occasions where both the source impedance and load impedance are high and the interference suppression performance is high (insertion loss).

The T-type filter is composed of two inductive elements and one capacitive element. It is similar to the Pi-type filter structure, but it is not as widely used as the Pi-type filter. It is suitable for occasions where the source impedance and load impedance are low, and the interference suppression performance is high (insertion loss).
We have a sound raw material cooperation system and cargo inspection mechanism.
Products with high stability, high temperature, small size, small tolerance and so on.
Product tolerances are strictly controlled between -15% to -10%.
We have the world's most advanced production equipment, and improve the management process.
We can provide custom design of your needs and provide free sample for you.
Our products comply with the RoHS Directive and the factory conforms to the ISO 9001 management system.
FAQ:
Q1. Can i have some samples for capacitors?
A:  Yes, welcome sample to test and check quality,factory brand samples are free.
Q2. What about the lead time?
A:  The sample needs 3-5days, the mass products needs 2 weeks for order quantity.
Q3. How do you ship the goods and how long does it take to arrive?
A:   We usually ship by DHL,UPS,FEDEX or TNT, it usually takes 3-5 days to arrive.Airline and sea shipping also optional.
Q4. Is it OK to print my logo on capacitor?
A:   Yes,pls inform us formally before our production and confirm the design firstly based on our sample
Q5. Do you offer guarantee for the products?
A:   Yes,we offer 2-3years warranty to our products.
Q6. How to deal with the faulty?
A:   If the item you purchase from factory beacuse of quality problems, you can return them to us for replacement or refund. And any items returned must be in their original condition to qualify for a refund or replacement.
If you have any interesting and problems, please feel free to contact us!
Contact Us
Email: filmcap@xuanxcapaciors.com
Ph/(whatsapp): +86-18825879082
Skype: Coco.PSH
Website: xuanxcapacitors.com