CBB61 1.5μf 2.2μf 3.3μf 250VAC Polypropylene Film Capacitor
Type: Composite Film Capacitor
Deviation: ±5% (J) ±10% (K)
Operating Temperature:-40℃-85℃
Packing type: through hole
Warranty: Unconditional replenishment
Description
Description
CBB61 film capacitor is a machine suitable for the starting and running of single-phase motors with a frequency of 50HZ AC power supply, and can also play a role in speed regulation of the motor. It is characterized by plastic shell encapsulation, good appearance consistency; small high frequency loss, suitable for large current; high insulation resistance, good self-healing and long life. It is an important supporting component for electric fans, range hoods, air-conditioning fans, and bread machines.
Film capacitor — CBB61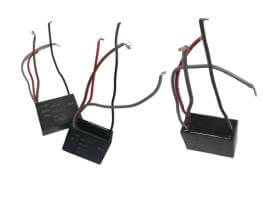 specifications
| Climate category/flame retardant rating | 40/85/21/B |
| --- | --- |
|  Operating temperature range | -40℃-85℃ |
|  Rated voltage | 450Vac for S3 ,250V/300V/350V/400V/450Vac for S0 |
| Capacitance range | 1.0μf(105)-50μf(506) Class-S0     1.0μf(105)-5μf(505) Class-S3 |
| Capacitance deviation | ±5%(J) |
| Insulation resistance | ≧3000S(20℃,100V,1min) |
| Dissipation factor | 0.2%Max,at1KHz and 25℃ |
Features:
1. Encapsulated in plastic shell, with good appearance consistency.
2. Small loss at high frequency, suitable for larger current.
3. High insulation resistance, good self-healing and long life.
 Structure:
1. The capacitor core is wound by metallized organic film.
2. Plastic shell, flame retardant epoxy resin potting, single capacitor core or multi-capacitor core can be installed in one shell.
3. The installation components include plastic ears and iron ears.
4. The lead-out methods include plastic-encapsulated leads, tinned copper pins, quick-connect terminals, soldering lugs, etc.
Conditions of use:
1. Altitude: ≤2000m.
2. Residual voltage when put in: no more than 10% of the rated voltage.
3. Maximum allowable voltage: no more than 1.1 times the rated voltage.
4. Maximum allowable current: no more than 1.3 times the rated current.
Deliver,Shipping And Serving
We are a supplier of electrolytic capacitor, and we have rich experiences in this field. Our daily production capacity can reach  7 million electrolytic capacitors, the sample period is 3 days, and the production cycle is 10 days. We will give you great support in terms of price, quality and delivery time.
And Support Customer's Visit To The Factory
e-mail:  sales1@xuanxcapacitors.com
Pho(whatsapp):+ 86-18825879082
Skype:Coco
website:capacitorsfilm.com