Electrolytic Capacitor 4700uF 50V Use For Adaptor
Description
An aluminum electrolytic capacitor 4700uF 50v is a type of electronic component used to store and release electrical energy in electronic circuits. It is a type of electrolytic capacitor, which means it utilizes an electrolyte (a conducting liquid) to achieve its capacitance. Capacitance is the ability of a component to store electric charge.
The basic construction of an aluminum electrolytic capacitor involves two main components: an anode (positive terminal) made of aluminum foil and a cathode (negative terminal) which is typically a conducting liquid electrolyte. The aluminum foil anode is coated with a dielectric oxide layer, usually formed by applying a voltage to the aluminum while immersed in a suitable electrolyte. This oxide layer acts as the dielectric material, which allows the capacitor to store charge without allowing direct electrical contact between the anode and cathode.
XS Series-Electrolytic Capacitor 4700uF 50V
Standard series for general purpose
Endurance: 2000 hours at 105C
Applicable to chargers, adaptor and small home appliances
Sleeve color: White Print in Black Sleeve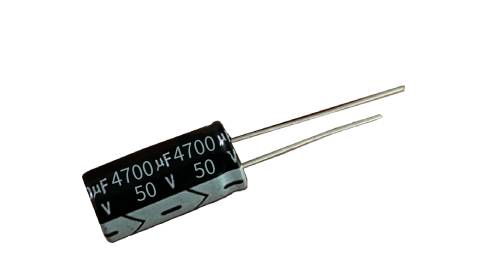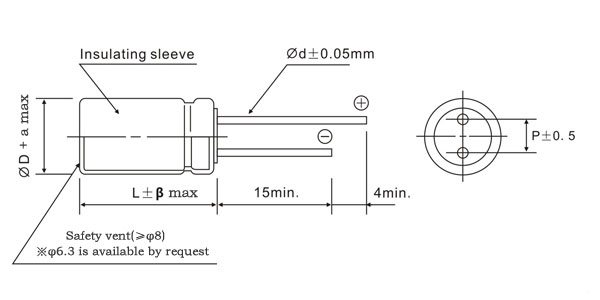 About Us-Electrolytic Capacitor 4700uF 50V
Dongguan Xuansn Electronics Co., Ltd.was founded in 2004. The company currently mainly produces and operates two major projects, solid aluminum electrolytic capacitors and liquid aluminum electrolytic capacitors. It is a high-tech enterprise integrating R&D, design, manufacturing, sales and service. It has successively won the " Honorary titles such as "National High-tech Enterprise" and "City Doubling Enterprise", have more than 40 patents in the field, and enjoy a high reputation in the industry.
The company currently has an industrial park with independent property rights production base, with a construction area of 40,000 square meters, complete facilities and facilities, and more than 600 elites from all walks of life. Over the years, the company has paid special attention to being in line with international standards, successively drawing on international advanced management experience, establishing a research and development system and a laboratory that have passed IS09001, ISO14001QC080000 system certification. At present, all products have passed ROHS, REACH, TSCA tests and met international environmental protection requirements.
During the years of development, the company has always adhered to the attitude of learning, learning from Taiwan-funded factories, Korean factories, and Japanese factories. Learn their advanced design concepts, quality control methods, management experience, etc. After years of hard work and practice, the quality of our products has become world-class, and the quality control exceeds that of foreign-funded products in the same industry.
The company has advanced production equipment in the industry, more than 250 fully automatic production lines, and has a full range of production supporting capabilities.
The main products are ultra-small, ordinary, low-leakage, high-frequency and low-resistance, high-voltage, conductive foil capacitors and other series capacitors.
We have a professional customization team to meet customer needs, and can tailor personalized product solutions for customers in terms of hardware and services.
Our production capacity reaches more than 300 million pieces per month, and is equipped with a finished product warehouse of 3,000 square meters to store conventional products and create conditions for fast delivery.
The company's existing products are mainly used in switching power supply industry, LED drive lighting industry, household appliance industry, electric vehicle charger, photovoltaic inverter, stage lighting, electric welding machine, large industrial equipment, computer supporting and other fields, and the application range is very wide. . With the progress of society, consumers have put forward higher requirements for products. Such as large ripple resistance, high pressure resistance, extremely high temperature resistance, low ripple output, low temperature start-up, lightning strike, energy efficiency level 6, EMC, fast charging and shrinking, high-fidelity audio, etc., we all achieve high-quality products, Strong channels and precise matching.
Everything in the past is a prologue. In the future, Dongguan Xuansn Electronics Co., Ltd. will continue to be oriented by customer needs, driven by technological innovation, adhering to a pragmatic and enterprising, rigorous, conscientious, excellent and efficient style, actively exploring international and domestic markets, paying close attention to quality as a guarantee, and continuing to provide customers with More competitive products and solutions. We will continue to work hard and do our best to make "Xuansn" deeply rooted in the hearts of the people and make it a household name, popular brand with high quality!
Contact us-Electrolytic Capacitor 4700uF 50V
We are a supplier of electrolytic capacitor, and we have rich experiences in this field. Our daily production capacity can reach  8 million electrolytic capacitors, the sample period is 3 days, and the production cycle is 10 days. We will give you great support in terms of price, quality and delivery time.
And Support Customer's Visit To The Factory
e-mail:  sales1@xuanxcapacitors.com
Pho(whatsapp):+ 86-18825879082
Skype:Coco.psh
website:xuanxcapacitors.com