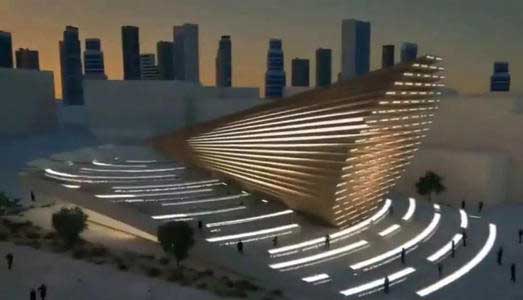 On October 20th, the online roadshow for China's participation in the Dubai Expo 2020 was held in a live broadcast, and the latest progress in the preparation of the Dubai Expo and the China Pavilion was released. Chinese ambassador to the UAE Ni Jian, UAE ambassador to China Zahiri, Vice Chairman of Dubai World Expo Bureau Jeravi and other guests gave online speeches and witnessed the topping of the China Pavilion. Zhang Shenfeng, vice chairman of the China Council for the Promotion of International Trade and the government representative of the China Pavilion at the 2020 Dubai World Expo, delivered an online speech and announced the closure of the China Pavilion.
Zhang Shenfeng said that since the beginning of this year, the new crown pneumonia virus has ravaged the world and brought challenges to all mankind. The International Exhibitions Bureau, the UAE government and exhibitors including China worked closely to overcome difficulties and jointly promote the preparations for the Dubai World Expo. The Dubai World Expo and the China Pavilion will definitely open their arms to the world with a brand new attitude at the right time, showcasing the development achievements and ideas of various countries, and play a more important role in building consensus and responding to human challenges.At the road show, Zhang Shenfeng awarded the fifth batch of cooperative enterprises and media to the China Pavilion at the Dubai World Expo.
It is understood that the Dubai World Expo has been postponed from October 1, 2021 to March 31, 2022. The name "Dubai Expo 2020" is still used. The theme of the Expo is "Communicate ideas and create the future." Gather the strength of the international community and promote global cooperation to create a better future. Up to now, 192 countries and international organizations have confirmed their participation.